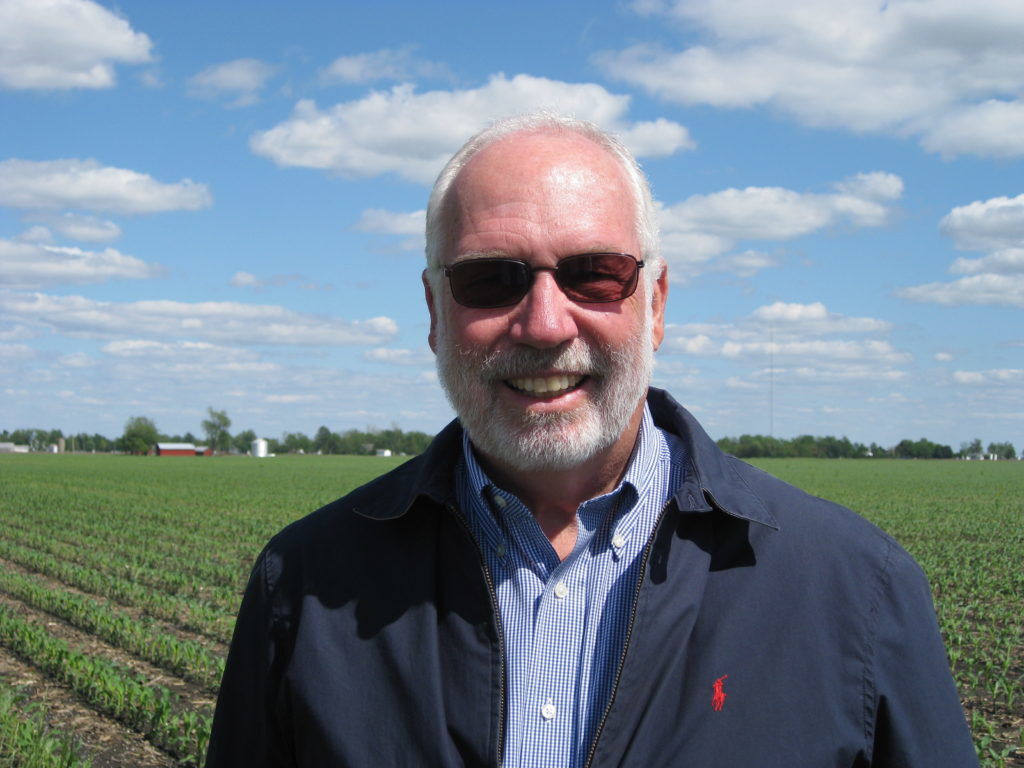 Written by Richard Lyons – This op ed appeared in the Bloomington Pantagraph and Decatur Herald & Review
Two years ago, Governor Pritzker and the Illinois Department of Agriculture made a wise investment in the future. They funded Fall Covers for Spring Savings (FCSS), a program incentivizing farmers to plant cover crops and keep our valuable soil covered year-round. As the Legislature hashes out the state budget in the coming weeks, our lawmakers should remember, even in this lean time, that short-term savings can be very costly in the long run. This small but extremely effective program will save our state, the Mississippi watershed, and the planet much greater expense down the line.
FCSS gives farmers a $5 per acre reward on their crop insurance premium for every enrolled acre they plant to cover crops. Cover crops build soil that absorbs more water during floods, stores it longer during droughts, and improves water filtration so much that I can get in my fields a week earlier in the spring. Cover crops are also a key way for agriculture to reduce its carbon footprint: they build healthy soils that can store a lot of CO2.
I have the only piece of highly erodible land in my township. I've planted cover crops since 2012 and practiced no-till before that. These days, the water coming off of my ground runs clear: the soil doesn't erode, which is better for my crops and for everyone downstream. Illinois topsoil is one of our most valuable assets. We can't afford to wash it away any more than Louisiana shrimp fishermen can afford the way our nutrient runoff pollutes their shrimping grounds.
Cover crops aren't just about future or downstream savings. Healthier soil and better water retention have increased my yields too.
Frank Rademacher, a young farmer managing 600 acres of corn and soybeans with his father near Champaign, enrolled in both years of FCSS. Frank tells me he's saving money with cover crops. By improving soil quality and increasing organic matter, the farm has substantially reduced fertilizer and herbicides and eliminated insecticides.
In a wink at how farmers notoriously gossip when someone tries something new, Rademacher Farm proclaims, "Proudly giving the neighbors something to talk about." Frank and I have both seen increased farmer interest in cover crops lately – people talk less about this crazy thing we're doing and want to talk to us more to learn about it. By reducing the financial risk of trying cover crops, FCSS has contributed to that shift.
The numbers back us up: last fall, the program was fully enrolled within 24 hours. Requested acres rose by more than one-third from 2020 to 2021, from 113,000 to 185,000 acres. 60 counties had at least one contract in 2020; this year, 85 counties do. Most exciting, 70% of applicants were new to planting cover crops.
Even non-landowners are interested in fall covers. Tom Abbott owns 250 hilly acres in Fulton County that he manages himself after decades of working with tenants. The steady corn and soybean rotation doesn't fit his ground, so he is diversifying, restoring forest and planting cover crops. Absentee owners hold about half of Illinois farmland, and they have a real opportunity to retain their land value – and the state's resilience – by building its soil health. Tom hasn't enrolled in FCSS, but likes how the program reduces risk to farmer and owner of trying something new.
We all want public funds to be invested cautiously and with a big return. A small investment to expand cover crop acreage across the state will reap huge benefits for us all: our soil and water, in field and downstream, now and in the future. Fall Covers for Spring Savings is truly public spending at its best. With applications this year requesting over 185,000 acres, including mine, funding for this valuable program should not only be maintained, but increased to meet demand. Let's hope our legislators in Springfield are listening.